THE GRIPSPORT BIKE RACK ADVANTAGE
Important information regarding purchasing a Gripsport van rack
We have received many queries regarding Grispsport van racks and some customers are a little confused about what exactly is included in the contents of a Grispsport van rack purchase.
There are two main components to the Grispsport van rack kits, the rack itself and the bolt on mount. The rack DOES NOT include the bolt on mount in its price, they are two separate items.
The rack consists either the non-tilting or tilting mechansim, wheel hoops, taco channels and associated hardware including tie down gear, as per below pic.
The engineered bolt on mount (RRP $335) consists of the mounting bracket which fixes to the draw bar crossmember, saddles to mount the required cross member and the mounting post which is available in three sizes, short, long or quick release.
The recommended 50 x 75 or 50 x100 RHS (minimum 3mm wall thickness) cross member is NOT INCLUDED with the bolt on mount as this will have to be cut and either direct welded to the draw bar or welded to the supplied saddles (preferred method) to suit the location on your draw bar.
There are rare occasions where the bolt on mount is not compatible with the van or camper so a custom made mounting system must be fabricated. For most vans however the engineered bolt on mount can be fitted to the draw bar and is by far the most popular mounting method (and the most robust) for the Gripsport range of van racks.
When purchasing a Gripsport van rack ensure that you select the items (if required) like the bolt on mount or tow bar adapter in the drop down menu at checkout.
This is also where the preference of the wheel assembly types (hoops, taco channels) and post size (if also purchasing the bolt on mount) are to be selected.
If you are unsure of your selection or are unsure how the rack will fit please do not hesitate to contact us.
We may require some photos of your draw bar and a few measurements in order to ascertain the most suitable position for your Grispsport van rack. We can also assemble your rack for no extra charge. NOTE: You may need to take into consideration the weight of the rack and bikes which will affect your tow ball weight, if it exceeds your limits you may need to transfer items on the draw bar to somewhere else on the van.
For example a 4 bike rack weighs 34kg and the bolt on mount 10kg, add 4 bikes and your towball weight has increased quite a lot.
Mounting methods for Gripsport van racks
The preferred draw bar mount
Some racks can be fitted to the rear bumper, although not recommended, in some situations this can be done.
Other bike racks are designed for cars… but of course caravans put a LOT more stress on bike racks than cars do.
Which is why the GripSport Bolt-On Mount is heavy duty steel, zinc plated and has been engineered specifically for caravans & camper trailers and the extreme conditions they're subjected to.
For a comprehensive guide on all fitting details click the below tab.
Can I mount my rack onto my car?
Absolutely, Gripsport manufacture a tow bar adaptor which simply fits into your 50mm square hitch receiver and the rack bolts directly onto this. They have even released a new tilting tow bar adapter for 1 and 2 bike racks. Adaptors start from $147.00.
tow bar adapters - How to use
These heavy-duty adapters let you fit your "Van-Racks" quickly and easily onto any vehicle with a 2″ (50mm) square hitch towbar.
There's two different adapters – one for 1 and 2-bike Van-Racks and another for 3 and 4-bike Van Racks. They both work exactly the same way and they both work with tilting and non-tilting Van-Racks.*
1/ Adapters slip straight into any 2″ (50mm) square hitch towbar receiver and are secured with your own towbar's quick-release pin and anti-rattle bolt.
2/ Depending on your which model Van-Rack you have it could have 1 or 2 "main carrier arms" (see green arrows above).
3/ Loosen off the two anti-rattle bolts (see green arrow above) and pull out the quick-release pin.
4/ The "main carrier arm" (or two arms if it's a 3 or 4-bike carrier) slips right off the Van-Rack leaving you with this.
5/ Slip the "main carrier arm" (or arms) onto the adapter, insert quick-release pin and tighten the anti-rattle bolts (see point 3 above) and your Van-Rack is now fitted to your car and ready to go.
* While you do get to transfer your 2-bike, 3-bike or 4-bike rack from your caravan onto your car, the actual tilting mechanism itself (if you have a tilting Van-Rack) stays mounted on your van and does not transfer over onto your vehicle. Only the 1-2 tilting tow bar adapter can tilt when on your car. 3-4 Van-Racks can not tilt when fitted to your car's towbar.
Can I mount the rack to my rear of my van?
Fitting a GripSport Van-Rack to the REAR bumper.
IMPORTANT – MUST READ
Even if it LOOKS like your van has a nice, solid chassis and rear bumper-bar across the back and even though it may SEEM perfectly logical to carry your bikes there… be aware that the amount of "bounce" at the rear of a van is surprisingly severe… even if you don't notice it. This can result in damage to bikes, bike rack, and even the van itself. In fact, some van manufacturers will void their warranty, and you may find insurance claims are denied, if a bike rack is fitted to the rear against the advice of the van or rack manufacturer. So our advice is as follows…
1/ The correct, proper and safest place to carry bikes is on the "A" frame.
2/ We recommend against fitting bike racks to the rear of caravans & camper trailers.
But it IS possible… in SOME cases GripSport Van-Racks (1 & 2-bike ONLY) should only be fitted to the rear of a van...using the GripSport "Bolt-On Mount" to a rear bumper made of 50mm x 75mm rectangular steel box section after determining the rear of your van is strong enough - consult your caravan dealer or manufacturer for advice.
Rear mounting bike racks can lead to catastrophic failure
Selecting the correct post type for your caravan or camper
"Tall" post above – the most common setup – used on vans and campers where you need to get the bike rack (and bikes) up and over toolboxes, gas bottles and spare wheels etc.
"Short" post above – used on vans and campers where height is not an issue.
"Quick-Release" post – ONLY needed for vans and campers with very low pull-out or fold-out beds that setup over the "A" frame (such as Jayco Expanda). For vans like these, both the bikes and rack have to be removed before setting up the bed and these posts have a built-in quick release system allowing bikes and rack to be completely removed (right down to the level of the red arrow) in under 30 seconds. See below link for further information.
Bike racks for expanda models
Absolutely the quickest, simplest, most adjustable and most secure bike carrier system ever. And now it fits Expanda models.
To purchase a van rack for Expanda models simply select the rack required and
choose the quick release mount.
The Gripsport van rack fits to the "A" frame using the optional Bolt-On Mount or a fabricated mounting frame. CLICK BELOW to see the fitting guide.
Available for 1, 2, 3 or 4 bikes. Choose between "tilting" or "non-tilting" models. NOTE – "Tilt" function only required if toolbox fitted to "A" frame (and you want instant access to it without having to remove bikes).
NOTE: – bikes and "top" section of rack must be removed before setting up the Expanda bed. But don't panic… it's a simple quick-release system and it literally takes seconds.
Remove quick-release pin and loosen anti-rattle bolt
Lift the whole assembly off
Set up your bed, job done. Now crack a cold one!
How much room do I need on my drawbar?
If you need to carry more than 2 bikes, check below pic to see for yourself how much room is needed on your "A" frame.
Set & Forget bike positioning.
Gripsport's Set & Forget Bike Positioning uses a wheel "hoop" for the front wheel, but instead of another "hoop" for the back wheel (forcing you to alter the spacing between the hoops every time you want to carry a different size bike), the back wheel simply sits down into our "taco" shaped channel… which means you can load up any size bike from a BMX to the largest road or mountain bike in seconds and without having to re-setup your carrier for a shorter (or longer) bike.
Each "taco" shaped wheel channel is supplied with its own heavy-duty cinch strap. For extreme driving situations, or when carrying bikes with very wide tyres, we recommend strapping the rear wheel down into the taco channel.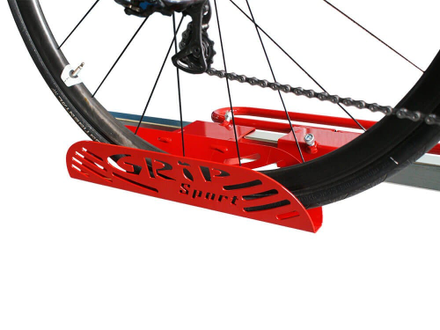 Gripsport suits all bikes
GripSport carrier system is the safest, simplest and toughest bike rack ever.
For all Road and Mountain bikes… Downhill monsters and heavy "E" bikes… and even for things like "recumbents" and Penny Farthings, the GripSport carrier system is the safest, simplest and toughest bike rack ever.
In his first Mountain Bike Australia magazine review of our racks, John Hardwick called it "Safe and fast" and went on to say he "couldn't find a pairing (of bikes) that wouldn't work (on it)"
In another review 10 years later, he said it's "a lot more than a basic bike rack and it's so much easier to use, safer for your bikes and a lot faster to setup — let's just say that I know where I'd be putting my money".
He's worth listening to… our bike racks really are that good.
The photos below will give you an idea of what Gripsport bike racks can handle…
Road bikes
Hardtail mountain bikes
Full-suspension mountain bikes.
Electric bikes.
Hybrids
Downhill mountain bikes
Fat Bikes
Cruisers
BMX
Folding bikes
Ladies bikes & "Step-Throughs" (see Note 1 below)
Kids bikes (see Note 2 below)
Trikes (requires custom adapter kit)
Tandems (requires adapter kit)
Recumbents (may require adapter kit)
Kick bikes (may require adapter kit)
Note 1 – when carrying bikes with no top tube at all for the carrier "hook" to hold down onto (see the 1st photo below ) you will need to use a "top-tube adapter" (as per the 2nd photo below).
These are available from bike shops in a number of quick-release styles and of course on our carrier system it is only there to allow the carrier hook to hold the bike down into the rack and the adapter bar wont actually be taking any of the weight of the bike as it would on the old 'beak' style bike racks (where the bikes are 'hung' from the top tube). AND PLEASE NOTE… because it is much better (and safer) to 'hold' a bike from as high up as possible, our carriers are actually designed like this on purpose, so the carrier hooks can't come down far enough to compromise the way in which bikes are secured.
But when carrying very small bikes with very low top tubes, you may be able to just alter the way the quick-release straps secure the carrier hook down onto the frame. As shown in the photo below it's simply a matter of running the strap around the main frame of the carrier (as indicated by the red arrow) and then securing it back into itself (as indicated by the green arrow).
Note 2 – the GripSport system is designed for bikes with tyres up to 3" wide and wheels that are 20" (BMX size) in diameter and larger. Bikes with smaller diameter wheels CAN be carried if you use our Wheel Hoop Reducers (to stop those small wheels from just falling through the hoops – see photo below). You may also have to strap/tie really little bikes (kiddies' bikes) onto the carrier rather than relying on the carrier's "hooks".
Note 3 – and we even have you covered for carrying "fat" bikes with tyres up to 6 inches wide… just get yourself a set of our "Fat-Bike" Wheel Hoops (see photo below) that slip straight on to every GripSport carrier.
Check the link below for all of the info required to assemble your Gripsport van rack
If you have any questions please don't hesitate to contact us.