BUSH PEG™ FURTHER INFORMATION
BUSH PEGs™ are the strongest peg available today in the RV and camping industry
SOME FURTHER INFORMATION FROM BUSH CHOOK ABOUT THE BUSH PEG™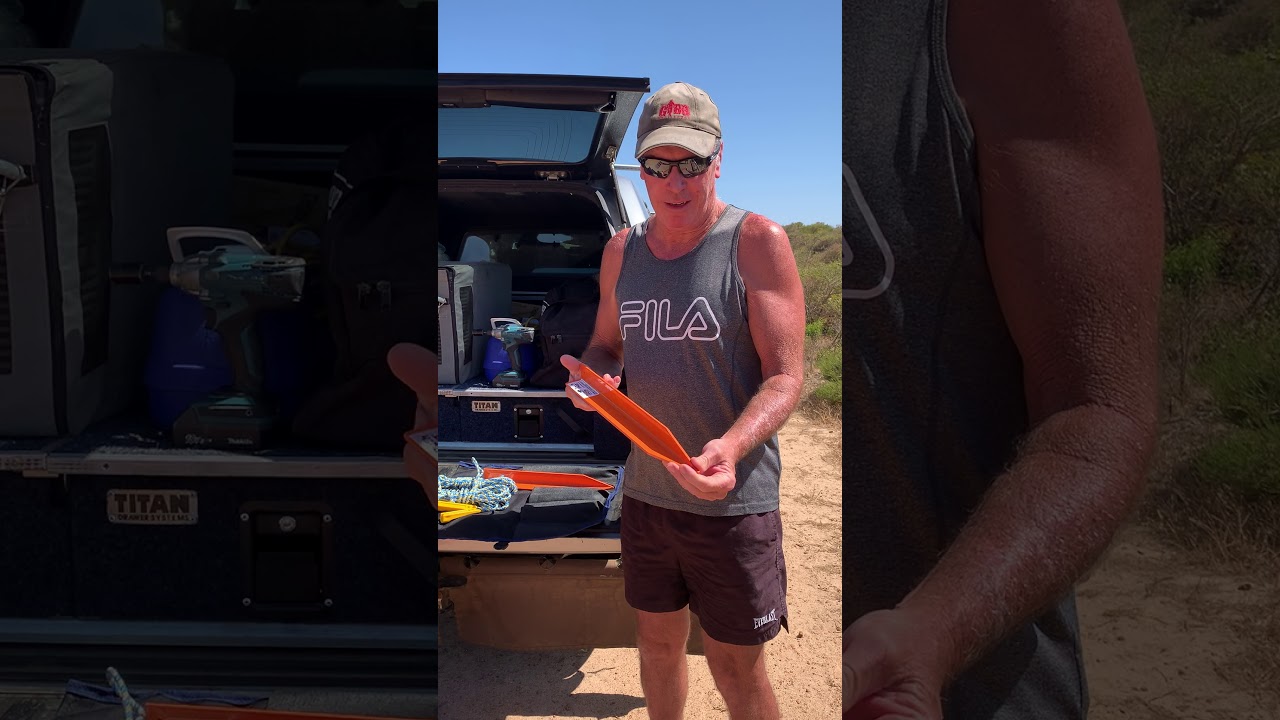 Bush Peg™ Information video
How many times have you skunt your knuckles trying to belt cheap steel pegs into hard ground, they bend and buckle and you then find out it's almost impossible to get them out? Except of course in soft ground where they don't work at all! We've all been to campsites where everywhere you look there are pegs left behind because old mate gave up trying to get them out! Here at BUSH CHOOK RV & LEISURE we have the solution to this very problem, the BUSH PEG™.
The BUSH PEG™ is ideal for tying down RV awnings, tents or anything that might blow away! We have been testing these beauties for over 15 years. Not once has a BUSH PEG™ ever pulled out or has our awning been compromised from unforeseen weather events at any time.
BUSH PEGS™ won't bend or break
A skinny steel peg and small trace spring are no match for the elements, plus a decent anchor is required that won't pull out. If there's a sudden wind gust the BUSH PEG™ will remain solid as a rock. Even on a mildly breezy day the constant flapping and movement of your tent or awning will loosen most pegs, but not the BUSH PEG™.
The BUSH PEG™ is the most heavy duty RV and camping peg available in today's market. No special tools are needed, no tek guns or drills here. Just belt them in the old fashioned way! Okay you'll need a decent hammer!
How many times have you left your campsite and thought "should I bring my awning in just in case" but didn't, then worried the whole time you were out because the wind had picked up?
Once installed into firm ground BUSH PEGS™ don't even require a trace spring and the ropes can be tied tight, usually two BUSH PEGS™ installed will be enough to sufficiently hold down your RV awning.
These aren't just a peg, they're a BUSH PEG™
Made from super tough 5mm thick 40x40 Aussie steel, BUSH PEGS™ are manufactured in Western Australia. They measure a whopping 400mm long and these orange monsters won't move once they're belted in. But the beauty of the BUSH PEGS™ is the ease at which they can be removed. (See our installation/removal instructions)
If you have had the good fortune of enjoying the nomadic lifestyle there's a very good chance you have seen the aftermath of an awning on top of an RV. It happens often! Sometimes we take all of the precautions; park so the awning is on the lee side of the prevailing wind, extra anchors, de-flappers etc. But sometimes all of these precautions aren't enough and one sudden wind gust your awning is gone.
Quick pack it away! This carnage is what we are trying to avoid at Bush Chook
An awning is like a large sail, if your awning is out and the van is rocking for all the wrong reasons, it's always best that you bring your awning in! But sometimes even on a calm day just one strong wind gust could rip your anchors straight out of the ground and leave your awning decimated. NEVER set up your awning with the legs out (not attached to the van) without tieing it down. This will ultimately lead to disaster.
QUESTION: What RV accessory has the majority of claims with insurance companies in Australia?
The BUSH PEG™ installed with a trace spring and tied with a truckies knot
In firm ground the BUSH PEGS™ don't even require a trace spring (above)
If you do plan to leave your site with your awning out, at least you will have peace of mind that the BUSH PEGS™ will have it well anchored. In any circumstance if high winds are forecast it's always best to bring your awning in. The stress on your awning fabric and components is massive in these conditions, leaving it out will only shorten the lifespan of your awning or destroy it!
We've extensively tested the BUSH PEGS™ in all conditions including sand, the above pics were taken at Sandy Cape north of Jurien Bay where we experienced 50kph winds and the BUSH PEGS™ didn't move and the guy ropes remained tight.
Here at Bush Chook RV & leisure we've even designed an awesome roll up storage pouch so you can stow all of your tie down gear in the one spot. As a special treat we've got a great introductory special for the full BUSH PEG™ kit at under a hundred bucks!
The Bush Peg™ Storage Roll kit is a heavy duty pouch that stows away 2 Bush Pegs™ and all the accessories required to secure them. Made from super heavy duty 635gsm tonneau cover material, this clever, well finished storage roll will ensure you never have to go searching for your tie down gear again.
Origin: Australia
Manufactured: Western Australia
Roll up dimensions: (loaded) 450mm long x 120mm diameter
Pouch contents: 2 x Bush Pegs™, 2 x h'duty trace springs, 2 x trace spring rings and 2 x guy ropes. 1 x extra pouch for small pegs, extra ropes etc.
Material: Heavy duty 635gsm tonneau cover material.
Colour: Black
Weight: 3.1kg
Although we only use trace springs when the ground is soft or unpredictable, we have never used adjustable slides with the BUSH PEGS™. We are well aware that they are widely used and accepted in today's market and t
hat's why at Bush Chook RV & Leisure we have introduced several custom made heavy duty guy rope kits, two of which have a heavy duty trace spring and one has a new generation polymer slide to help compliment the BUSH PEG™ kits.
The BUSH PEG™ installed with a trace spring and a New Age Polymer adjustable slide. This is the only slide we carry. These ones performed best out of all of the slides we tested.
BUSH PEG™ care and maintenance
WTF? Care and maintenance of a peg! Well it's not just a peg, it's a friggin BUSH PEG™! BUSH PEGS™ are made from steel, and when you belt the crap out of them with a large hammer the steel knobhead will eventually "mushroom", much like a cold chisel after prolonged use. This "mushrooming" causes sharp edges that can easily cut skin. Also eye injury may result if metal shards fly off. This can be easily averted by simply cleaning up the burred edges every now and then with an angle grinder or a file. The point or vertex may also become burred from penetrating hard ground and may need a touch up, this will also aid in ground penetration. If you belt any treated metal object with a hammer, the coating whether galvanised, painted or in the BUSH PEGS™ case powder coat will wear off. This will ultimately lead to surface rust on your BUSH PEG™. From time to time simply give the BUSH PEG™ a light sand and touch up with X15 paint (available in pots or spray cans).
The BUSH PEG™ has been tried and tested over many years, it's now a little more refined and a hell of a lot brighter! We hope you enjoy using your new BUSH PEGS™ and the team at Bush Chook RV & Leisure wish you happy and safe travels. Catch you at happy hour!